How It Works
All you have to do is submit the form with your contact information and any special requests, and your guide will make contact with you directly, usually within 24 hours, to arrange your time afield.
RATES: Bookings made through our General Calendar will be charged at $250 a day plus expenses for one person and $50 for each additional participant; guides may also offer half-day or hourly rates. Rates for days booked through an individual guide's calendar are set by the guide. You'll pay your guide directly; there is no additional charge for using AZ-Birding. Sound good? Click on the calendar to book specific dates or on a guide's name to book with a particular guide.
NOTE: For guides who only work a specific region (such as Phoenix) you'll need to book directly on their calendar as they aren't listed in the general calendar.
Whether you're looking for a first introduction to birds and birding or striking out on the quest for a milestone rarity, you'll find every one of our guides to be an ideal field companion. Learn more about our guides and what to expect.
Plan Your Trip
When to come
There's no such thing as a bad time to bird Arizona. For a first visit, the cooler monsoon season of July and August will produce the greatest variety of Arizona specialties and a good chance at vagrants. Fall and spring see large numbers of western migrants, while winter days can be full of waterfowl, raptors, and sparrows. Even early summer is exciting as breeding activity heats up in the deserts and cool mountains.
Review the seasonal abundance of your target species here.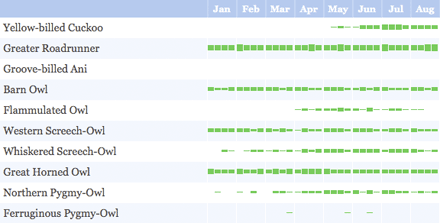 What to look for
The AZ-Birding Latest Rarities page keeps you up to date on recent Arizona birding reports and alerts, all carefully reviewed by our experts. Phone or e-mail us with any questions about the birds you find listed here; we can provide details to help you look on your own or help you make a reservation with one of our guides—in many cases the very birder who discovered the rarity in the first place.