Reserve now with Melody Kehl
Choose from the available dates below to start your reservation. We recommend requesting dates at least one week out for reservations to ensure availability. If booking with less lead time than that, be aware that we may not be able to accommodate your request. If you have questions, please contact us.
The general reservation calendar specifically covers guides within Southeastern Arizona (Tucson area and south and east from there). For the greater Phoenix/Maricopa area please see Gordon Karre's calendar directly. For Southeastern, Central, and Northern Arizona, see Felipe Guerrero's calendar directly.
How it works You can book guide services with this guide by selecting from available dates above, or you can book through the general calendar.
For guides who only work a specific region (such as Phoenix, Prescott, Verde Valley, or Portal/Chiricahuas) you'll need to book directly on their calendar as they aren't listed in the general calendar
All you have to do is submit the form with your contact information and any special requests, and your guide will make contact with you directly, usually within 24 hours, to arrange your time afield.
There is no additional charge for using AZ-Birding; you'll pay your guide directly at her or his usual rate. Learn more about our guides and what to expect.
Melody Kehl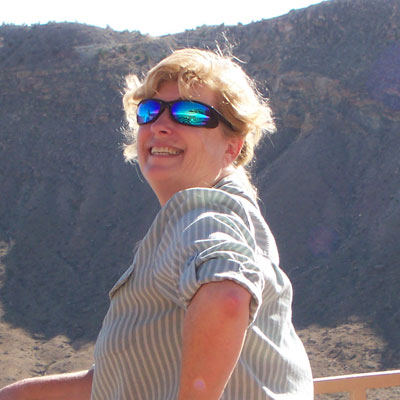 Melody Kehl is an avid birder who loves to share her knowledge with anyone and everyone. She continues to take courses in ornithology to feed her frenzied need for more knowledge about our feathered friends.  Spending some two hundred fifty days a year birding and hiking in Southern Arizona, Melody has acquired an intimate knowledge of the places where birds gather, nest, feed and hide. She is also knowledgeable about the area's fauna and flora and current environmental issues. Melody's contagious enthusiasm makes for exciting and fun days in the field.
Melody is able to guide in all regions.
I am a non-aggressive birder who has a tendency to bird quiet (not much pishing or owl tooting or taping).  I like to wait quietly and let the bird come to me which can take a little longer, but seems much more satisfying. Allow the bird to "Do What Comes Naturally!