Reserve now with Scott Wilbor
Choose from the available dates below to start your reservation. We recommend requesting dates at least one week out for reservations to ensure availability. If booking with less lead time than that, be aware that we may not be able to accommodate your request. If you have questions, please contact us.
The general reservation calendar specifically covers guides within Southeastern Arizona (Tucson area and south and east from there). For the greater Phoenix/Maricopa area please see Gordon Karre's calendar directly. For Southeastern, Central, and Northern Arizona, see Felipe Guerrero's calendar directly.
How it works You can book guide services with this guide by selecting from available dates above, or you can book through the general calendar.
For guides who only work a specific region (such as Phoenix, Prescott, Verde Valley, or Portal/Chiricahuas) you'll need to book directly on their calendar as they aren't listed in the general calendar
All you have to do is submit the form with your contact information and any special requests, and your guide will make contact with you directly, usually within 24 hours, to arrange your time afield.
There is no additional charge for using AZ-Birding; you'll pay your guide directly at her or his usual rate. Learn more about our guides and what to expect.
Scott Wilbor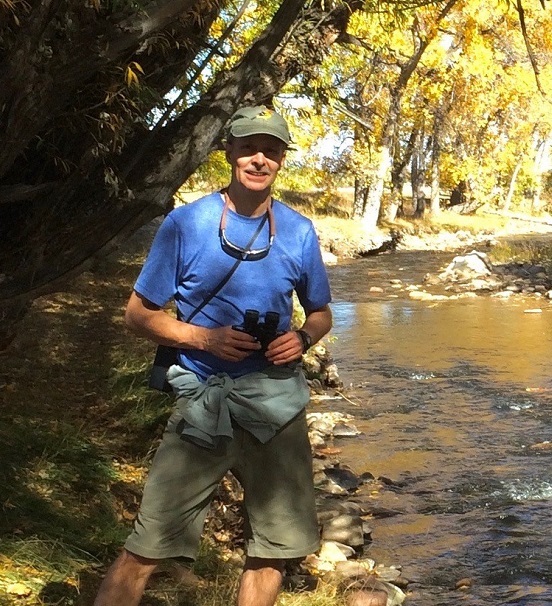 Scott Wilbor, Nature InSight LLC
Scott brings a love of adventure in birding and seeking out other wildlife throughout the West and beyond, along with his many years pursuing avian studies and conservation work.  His newest venture, Nature InSight LLC (visit at natureinsight-explore.com), strives to provide bird guiding for all levels of experience, all ages, and all capabilities, while providing insightful, fun, and adventure-filled birding & wildlife explorations.  This includes sharing his knowledge of avian ecology, behavior, habitat, and ecosystems.
Scott has 20+ year history of working in the Southwest as a conservation biologist, researcher, practitioner, coordinator, and director, as well as 14 years of experience as a wildlife and fisheries biologist in Alaska.  His avian studies and conservation work have covered all of Arizona, especially Southeast Arizona, and his Alaska wildlife studies spanned from Southeast Alaska to the Arctic.
Scott initiated and coordinated Audubon's Important Bird Areas Program in Arizona (est. 2001) for 11 years with the Tucson Audubon Society.  He started the Avian Science Initiative within the program, to use professional and citizen-science volunteers to provide new bird population data to identify and promote conservation of the most essential habitat for birds in Arizona, our Arizona IBAs (visit at aziba.org). He has since been a conservation and science director for various NGOs in southern Arizona.
Scott provides his guiding services within Southeast Arizona, and further afield with National Geographic Expeditions, offering both half-day and full-day guiding adventures.  The Santa Cruz and San Pedro Rivers, and Tucson, Green Valley, Tubac, and Patagonia areas and their surrounds, are his home guiding range.  Scott focuses his guiding on outstanding habitats for birds and other wildlife, including lesser-known wild places.  These habitats include:  riparian/riverine, canyons, wetlands, Sonoran Desert, mesquite bosque, mix oak woodlands, montane forests, and grasslands.  Scott knows the birds and their habitats in our wild southeast corner of Arizona, and where to find them!