Reserve now with Keith Kamper
Choose from the available dates below to start your reservation. We recommend requesting dates at least one week out for reservations to ensure availability. If booking with less lead time than that, be aware that we may not be able to accommodate your request. If you have questions, please contact us.
The general reservation calendar specifically covers guides within Southeastern Arizona (Tucson area and south and east from there). For the greater Phoenix/Maricopa area please see Gordon Karre's calendar directly. For Southeastern, Central, and Northern Arizona, see Felipe Guerrero's calendar directly.
How it works You can book guide services with this guide by selecting from available dates above, or you can book through the general calendar.
For guides who only work a specific region (such as Phoenix, Prescott, Verde Valley, or Portal/Chiricahuas) you'll need to book directly on their calendar as they aren't listed in the general calendar
All you have to do is submit the form with your contact information and any special requests, and your guide will make contact with you directly, usually within 24 hours, to arrange your time afield.
There is no additional charge for using AZ-Birding; you'll pay your guide directly at her or his usual rate. Learn more about our guides and what to expect.
Keith Kamper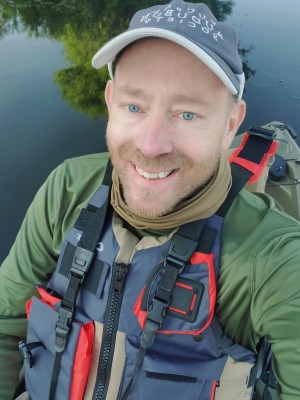 Keith Kamper grew up in Michigan where he spent his childhood observing and catching snakes, frogs, turtles, and insects. He became hooked on birds at an early age and has amassed 35 years of serious birding experience, including over 17 years as a professional birding guide. He has led tours in Mexico, Belize and Guatemala, and enjoys birding the neotropics and beyond; his favorite area to bird and to guide, however, is southeast Arizona, where he has guided for Adventure Birding Company since 2006.
Keith is a founding member of the Arizona Field Ornithologists and is vice president of Tucson Audubon Society's Board of Directors; he also serves on Tucson Audubon's Conservation Committee and chairs its new Inclusion, Diversity, Equity, and Accessibility workgroup. Keith also has a strong interest in the status and distribution of Arizona's birds, and serves on the Arizona Bird Committee.
Keith enjoys everything from targeted birding and photo tours to relaxed outings to observe avian behavior. He is particularly adept at identifying birds by their vocalizations. For Keith, the only thing more exciting than finding a rare or special bird is sharing that finding with others. He especially enjoys sharing his passion with newer birders, young and young at heart.